Thank you Annette for being such a wonderful photographer. You were so professional throughout the entire day.
You made the whole affair lots of fun and less stressful. The final photos were excellent quality, we would absolutely recommend you to anyone!
Tracey & Callum Troon
Annette, once again you've delivered Eugene & I fabulous photos of our family. I now find that our house is filled with your photography; photos of my pregnancy, portraits of our kids throughout their little lives and now photos of our wedding to add to the collection. Your professionalism and expertise played such an important part in making our wedding day one that we will cherish forever. You've given us the gift of wedding photos that I am proud to show off to all our friends and family … though now I face the arduous task of deciding which ones go up on the wall!
Nicky and Eugene Randall
Having Annette do our wedding photos was an excellent choice. I didn't notice her at all during the ceremony and she was really good with our guest and family photos. I thought leaving our guests for our wedding party photos was going to be a drag but that was a really fun part of our day.
Throughout the day Annette was relaxed but professional and we ended up with some brilliant photos that really reflect what a fantastic time we all had.
Rhonda and Richard Gardner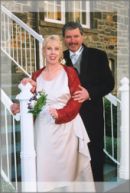 We would like to thank you so much for the great job you did of our wedding photos. We appreciated the way you took photos of the guests, the ceremony, the reception, the tables, the gifts – you covered everything beautifully. We now have the photos as a record of our special day.
Our guests also have mentioned to us as to how good you were with not getting in the way while taking the photos but still getting excellent coverage. You also have a lovely gentle manner about you which helped us relax. We would happily recommend your services.
Kathy & Eddie MacCormack